Home » Services » League Programs
League Program
IT Services
Through Sophicity, AML now offers a service, "IT in a Box," which provides cities with state-of-the-art information technology tools supported by experienced, highly skilled IT professionals. Congratulations to the cities of Yellville and Bethel Heights for being the first two municipalities in Arkansas to sign on with "IT in a Box!" We will keep you updated on their progress.
"IT in a Box" At-a-Glance...
From backing up data to modernizing your website, we know it's tough for cities to invest in the right technology and hire the best professional expertise to guide them along. But those investments need to happen. Otherwise, your city operations are at risk. To address these needs cost-effectively without taking any shortcuts, we helped create a packaged technology service that we call "IT in a Box." From the minute you say 'go,' "IT in a Box" provides you with essential technology services and solutions that modernize your city's IT for a fraction of the typical costs. So what's inside "IT in a Box?"
A modern, user-friendly city website.
Data backup and offsite storage to protect your information from a disaster.
Document protection and easy document retrieval for open records requests.
A modern, business-grade email system.
7 days a week helpdesk, every day of the week.
Vendor management—meaning we speak to technology vendors on your behalf.
Full management of your servers, desktops, and mobile devices. Plus, we provide you Office Professional Plus for your desktops that includes the latest versions of Outlook, Word, Excel, PowerPoint, Access, InfoPath, Publisher, and OneNote.
Costs
We customize "IT in a Box" plans depending on the number of your employees and the size of your city's technology infrastructure. This customization makes "IT in a Box" affordable for your budget, from the smallest city to the largest city. Contact us so that we may assess your needs and begin the quote process. With "IT in a Box," municipalities receive all the above services for one monthly fee.
Read about the Bethel Heights case study and how IT in a Box has benefitted their city.
Learn more about this service by downloading the IT in a Box brochure and process.
Learn more about this service by visiting the Sophicty's website: www.sophicity.com/ITInABox.aspx.
Cities tell us that body camera and squad car video storage costs are a big concern for them—and storage needs for video data will only continue to grow at an increasingly rapid pace. IT in a Box saves cities money with our unlimited offsite video storage and retention. Learn about IT In a Box's New Video Archiving.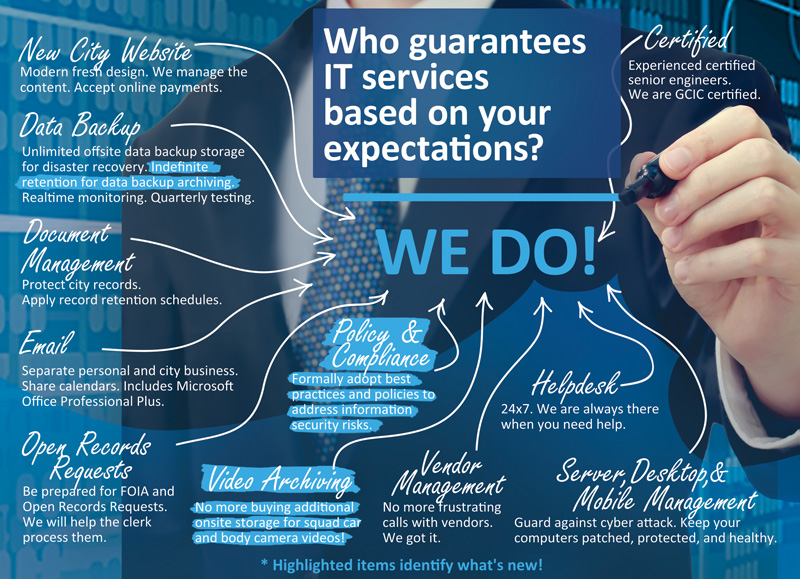 AML's Cybersecurity Product is also available through Sophicity.
This product is geared toward cities and towns that are in need of securing their data.
To obtain more information, other than the brochure below, contact:
Sophicity at 770.670.6940 or Sales: 770.670.6940 x116.