Home » Services » Publications
City & Town
This is the official publication of the Arkansas Municipal League, published monthly in the interest of improving municipal government in Arkansas. City & Town has been published continuously since 1977 under this title and since 1947 as Arkansas Municipalities. Advertising, article submissions, address changes, subscription information, and requests for complimentary issues should be sent to P.O. Box 38, North Little Rock, AR 72115 or citytown@arml.org. Subscription cost is $20 per 12 issues.
Would you like to advertise in City & Town? Be sure to download our Media Kit. It has the ad sizes and prices along with our contact information.
Current Issue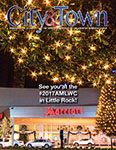 2017 City & Town
There is currently no archive for this year.
2016 City & Town
2015 City & Town
2014 City & Town
2013 City & Town
2012 City & Town
2011 City & Town
2010 City & Town
2009 City & Town
2008 City & Town
2007 City & Town
2006 City & Town
2005 City & Town