Home » About AML
Message From Our Director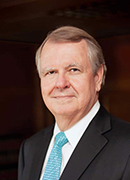 Executive Director
Don A. Zimmerman
Welcome to an Information System of the Arkansas Municipal League:
We are delighted to be able to communicate with you through this medium. The Arkansas Municipal League is a voluntary organization of 500 cities and towns throughout the state of Arkansas.
Our goal is to assist municipal officials in representing the interest of cities and towns and to provide services to our members which will foster improved local government in Arkansas. If you have suggestions as to how we might better accomplish that objective I would be happy to hear them.
I can be reached at the Arkansas Municipal League, (501) 374-3484, ext 100 or by FAX at (501) 374-0541 or by E-mail to daz@arml.org.
Thank you for visiting our site.
Very truly yours,

Don A. Zimmerman
Executive Director