« Return to Press Releases
League honors Jeff Hawkins at 83rd Convention
The Arkansas Municipal League at its 83rd Convention, held June 14-16 in Little Rock, honored Jeff Hawkins with the John Woodruff City Above Self Award. The award is presented to a person who has provided lasting benefits to cities and towns of Arkansas, either collectively or individually, by being an outstanding example of dedication to their improvement.
Hawkins has served as a planning director at the city and regional levels in Arkansas for more than 40 years. He is recognized for his expertise regarding municipal planning and development, land use, redistricting, and annexation. He has been involved in more than 100 annexations in cities across Arkansas.
The award is named in honor of Woodruff, the League's communications coordinator and editor of City & Town from 1992 until his death in 2007. Before that John covered the North Little Rock beat for the Arkansas Gazette for 21 years. John worked tirelessly and unselfishly for the cities of Arkansas.
The Arkansas Municipal League is a service and advocacy organization for the municipalities of Arkansas. The League offers its programs and services to all 500 cities and towns in the state and was created in 1934 to assist cities with information and representation in the public affairs of our state and nation. To find out more, please visit www.arml.org.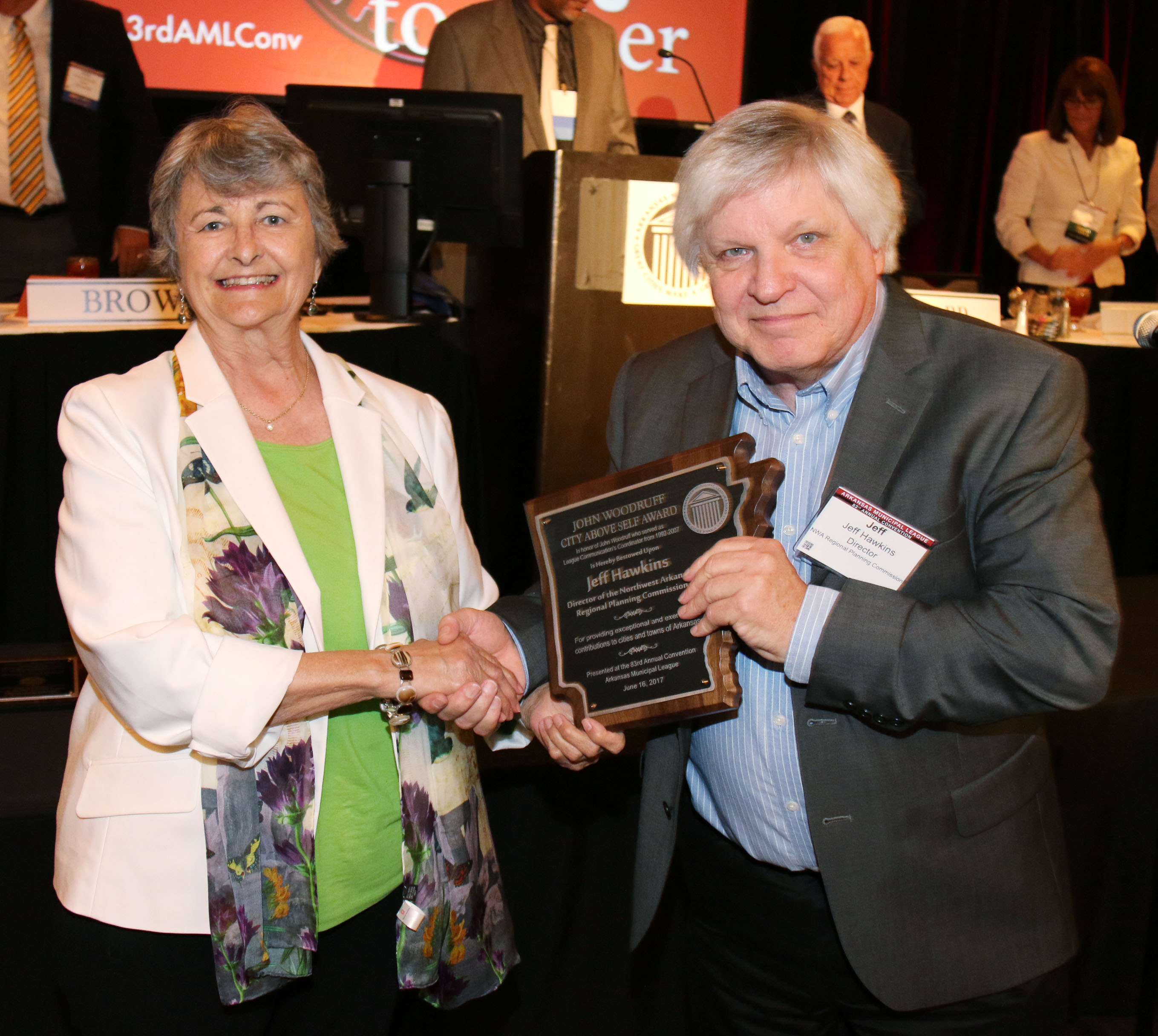 Photo: from left, Diane Woodruff, widow of John Woodruff; Jeff Hawkins.
---
June 22, 2017
FOR IMMEDIATE RELEASE
Contact: Don Zimmerman, Executive Director
Whitnee V. Bullerwell, Communications Director
Arkansas Municipal League, 501-374-3484
www.arml.org