Home » Services » League Programs
Benefit Program
Healthy Workplace Planning Program
The Healthy Workplace Planning Program is designed to promote fitness, health and well-being among qualifying volunteer cities and towns within the State of Arkansas.
The program seeks to reduce emplyee sick leave, health insurance claims and premiums among cities and towns.
The program's aim is to create awareness, understanding and solutions for lifestyle risk factors that can contribute to health-related issues. For more information on this program, contact David Baxter at 501-374-3484, ext. 110.
Phone Number
Home » Services » League Programs
Benefit Program
Defensive Driving Program
The Defensive Driving Program is designed to elevate and expand existing driver skills, help correct driving deficiencies and promote a positive attitude toward driver safety among all members of the Municipal Vehicle Program.
For more information on this program, contact David Baxter at 501-374-3484, ext. 110.
Phone Number
Home » Services » League Programs
Benefit Program
Field Representatives/District Meetings
Staff members of the League are "on-call" to visit cities and towns desiring help with their managerial responsibilities when time permits.
The League encourages member cities to arrange for meetings and invite the League staff to present helpful information at maximum convenience to the member cities.
Home » Services » League Programs
Benefit Program
Arkansas Diamond Deferred Compensation Plan
All municipalities, and other political subdivisions, of the State of Arkansas are eligible to utilize the State of Arkansas Deferred Compensation Plan, commonly referred to as the AR Diamond Plan. The AR Diamond Plan can be made available to employees at no cost to the city.
Other Plan benefits include a simplified plan structure, low cost and a local service team. As many as 50 different municipalities currently take advantage of the AR Diamond Plan. As Plan consultant, Stephens assists the state in the selection and ongoing monitoring of all plan investment options. Voya FinancialTM is the record keeper and administrator of the plan. Click here for more information.
Home » Services » League Programs
Benefit Program
Municipal Other Post Employment Benefits Trust (MOPEBT)
The League has established the Municipal Other Post Employment Benefits Trust as a vehicle for cities (and city agencies) to implement a savings plan for OPEB costs.
The growth in unfunded other post employment benefit costs is becoming a major financial problem for all governmental entities, whether local, state or federal. Without a savings plan, these liabilities will continue to grow and ultimately jeopardize the financial stability of municipal governments.
For more information on this program, contact Cindy Frizzell at 501-374-3484, ext. 263.
Phone Number
Home » Services » League Programs
Benefit Program
Arkansas Local Government Pension Management Trust (PMT)
The PMT is an optional program available to local municipalities Pension Plans (Fire & Police "old plans"; Local Non-Uniform Plans). The PMT provides an excellent opportunity for relatively small or medium size (in terms of assets and number of people covered) locally controlled plans to join together in a League sponsored Pension Management Plan. Thus combined, participating plans receive professional investment advice, extensive earning performance reporting, full administrative services (including processing of benefit checks to retirees) and volume fee pricing similar to those enjoyed by large plans such as APERS and LOPFI, while retaining LOCAL CONTROL in the hands of the respective Local Pension Board. Costs associated with participation in the PMT (even with all the extra features mentioned above) are almost guaranteed to be less than Local Boards pay for services presently. For more information on this program, contact Cindy Frizzell at 501-374-3484, ext. 263.
Phone Number
Home » Services » League Programs
Benefit Program
Municipal Vehicle Program
The MVP, Part I, is an optional program whereby participating municipalities can pool their resources and provide liability protection on their vehicles.
​Part II allows municipalities the option of carrying physical damage coverage on their vehicles on a pooled self-funded basis. Email: mvp@arml.org
Municipal Vehicle Program Interactive Full Service Portal
New user? Create a MVP Interactive account by emailing us.
Email link: MVP Interactive Registration.
Direct Phone Number (501) 978-6123
Fax (501) 978-6562
Municipal Vehicle Program Information Center
Right click on PDFs above to download linked file.
Home » Services » League Programs
Benefit Program
Municipal Property Program
The MPP is an optional program whereby participating municipalities can pool their resources and provide all risks protection for their buildings and contents. Email: mpp@arml.org
Municipal Property Program Interactive Full Service Portal
New user? Create a MPP Interactive account by emailing us.
Email link: MPP Interactive Registration.
Direct Phone Number (501) 978-6123
Fax (501) 978-6562
Municipal Property Program Information Center
Right click on PDFs above to download linked files.
Home » Services » League Programs
Benefit Program
Municipal Legal Defense Program
The MLDP is an optional program whereby participating municipalities can pool their resources and provide limited protection for the personal assets of officials, board or commission members and employees.
Protection to municipalities from civil rights lawsuits is also available under the MLDP, as is drug testing for employees holding commercial drivers' licenses.
Opioid Action Items:
New Whistle-Blower Law
Home » Services » League Programs
Benefit Program
Municipal League Workers' Compensation Trust
The Municipal League Workers' Compensation Trust (MLWCT) was established in 1985 to help cities and towns meet their statutory responsibilities for on-the-job employee injuries and loss-of-time claims.
Arkansas Municipal League also offers a valuable program to protect the earnings of volunteer firefighters while they are executing their firefighting duties. Volunteer firefighters who are not covered by the supplemental program only receive $20.00 a week for a compensable injury. Premiums are billed annually at reasonable rates. Processing is done in-house. The services of experienced adjusters are used, and the Trust is fully protected in accordance with state law.
Phone Number
MLWCT Information Center
Downloadable Forms (Please download and open in Adobe Reader for best results.)
Home » Services » League Programs
Benefit Program
Municipal Health Benefit Fund
The League's Municipal Health Benefit Fund provides medical, dental and vision benefits to employees and officials. The advantage of being a part of the large group has enabled cities over the years to maintain a relatively stable cost for this important fringe benefit for municipal officials and employees in an era of soaring medical costs. Premium reports are processed by the League staff.
Other programs such as the Municipal Officials AD&D Plan and life insurance and AD&D plans for both officials and employees are available through the League at group rates.
Phone Numbers
501-978-6137 MHBF Direct Line
978-6137, Option 6. MHBF Customer Service Line
888-295-3591 Pre-Certification Line
Electronic Claims Filing Number (EDI)
EBRx Member Services
University of Arkansas for Medical Sciences/EBRx is the pharmacy risk management vendor for the Municipal Health Benefit Fund (MHBF). EBRx assists MHBF with its pharmacy benefit design using evidence-based research and drug reviews. EBRx Member Services are available to MHBF Plan Participants by calling toll free 833-339-8401 7:00 a.m. to 7:00 p.m. CST.
EBRx Member Services staff are able to:
Answer questions about the MHBF evidence-based prescription plan design.
Access a team of pharmacists and physicians who are able to speak with your physician about appropriate drug therapies.
Assist in transferring plan participants to the MHBF pharmacy benefits manager, OptumRx, when calls are for information or assistance not related to the evidence-based prescription plan design (e.g., participant eligibility, changed in preferred drug statuses that are not part of the evidence-based prescription plan design, "refill too soon" errors, etc.)
MHBF Information Center
MHBF Wellness Center
ACA Tax Reporting Requirements for Municipal Entities
Below are links to the forms 1094-B, 1094-C, 1095-B and 1095-C as well as instructions for those files from the irs.gov site:
ACA Assistance from AML Partnership with American Fidelity Assurance and Five Points ICT
IRS Announces Procedure for 2015 Employer Mandate Penalty Assessment/Appeal
The IRS recently updated their website Q&As to provide more detailed guidance regarding the 2015 employer mandate penalty assessment and appeal process. (These updated Q&As #55-58 are available here) While the update provides employers with a detailed overview of the assessment and appeals process, below are a few considerations that employers should be mindful of now, before any penalty notices are mailed:
Timing of Penalty Notice – The IRS clarified that its plan is to issue 2015 employer mandate penalty letters (Letter 226J, a form copy of which is available for download below) to employers in late 2017.
Timeframe to Contest Penalty – The updated Q&As further indicate that an employer may contest a penalty notice by providing a response letter (Form 14764) to the IRS within 30 days of the date of the penalty notice.
Based on these updates, we understand that the IRS plans to issue the 2015 employer mandate penalty notices at some point during the next 7 weeks, and employers in receipt of those notices will have a fairly brief timeframe to provide response letters to the IRS contesting the notices. With that in mind, it is important that an employers are able to quickly identify any receipt of a Letter 226J, and have the necessary resources and tools to quickly and adequately prepare a response to the IRS contesting any erroneous penalties identified therein.
With that in mind, please plan to join us for a review of the employer mandate assessment and appeals process at our next monthly webinar series installment on November 29th. For those who have not already done so, you may sign up for our monthly consulting webinar series by registering at the following site: https://attendee.gotowebinar.com/register/7367844288465915905
If you have any questions or comments, please email us atsupport@mybenefitschannel.com. We hope to "see" you all there!
Open Enrollment/ACA Reporting Requirements
Home » Services » League Programs
League Program
Planning Service
The Arkansas Municipal League offers as a service to its member cities a registered city planner for teaching at seminars and for technical consultation with member cities and towns. The first visit each year by the planner to a city for advice, information and consultation is a League complimentary service.
The League staff city planner reaches every member city monthly through his City & Town column. To contact Jim VonTungeln, Staff Planner, please call (501) 372-3232 or e-mail uplan@swbell.net.
Home » Services » League Programs
League Program
TIPS/TAPS
Welcome to The Interlocal Purchasing System (TIPS/TAPS), a purchasing cooperative serving public and private school districts, colleges, universities, federal, state, county and city municipalities.
The purpose of TIPS/TAPS is to provide substantial savings and best value for participating members through cooperative purchasing practices. Their mission is to provide a proven cooperative purchasing process through quality customer service including timely responses, legal support and effective recruitment by providing sufficient resources to include personnel. You may access their website here:
www.tips-usa.com. Or you may call TIPS/TAPS with questions at 866-839-8477.
Home » Services » League Programs
League Program
Cable Television Franchise Management Service
The Arkansas Municipal League offers a cable television franchise management service through Local Government Services or LGS. The goals of the program are to ensure that local governments have access to the expertise required to negotiate for the benefits and services needed in our communities on reasonable terms and conditions.
In return for a nominal fee, which is usually based on a city's population, cities can obtain the following services: assistance in negotiating new terms and conditions for cable television franchise renewals, including the preparation of the franchise document; determining cable companies compliance with existing franchise terms and conditions including franchise fee payment review; developing and implementing a community needs assessment to determine the future cable-related needs and interest of cities; assistance for electric cities in negotiating pole attachment agreements and conducting pole count inventories; assistance in the development of public, educational and governmental channels (PEG); assistance with processing requests from companies to transfer an existing cable franchise; and assistance with negotiating tower leases. LGS provides these services in conjunction with the law firm of Moses and Barnett and with the assistance of William Pohts, an engineer specializing in the emerging technologies in telecommunications and electronic systems.
For further information or participation in this program, contact Greg Fender with LGS at 800-978-0071 or via e-mail at ghfender@windstream.net .
Home » Services » League Programs
League Program
Supplemental Health Plan Benefits
American Fidelity Assurance Company provides supplemental benefits and employer services designed specifically for the municipality market. They specialize in providing employer administrative services for Section 125 Plans, Flexible Spending Accounts, Health Savings Accounts,
Health Reimbursement Arrangements and Depending Verification Reviews as well as enhancing your current benefit program with voluntary benefit plans for your employees without adding costs to your bottom line.
To find out which programs work best for your municipality, please contact American Fidelity's Bubba Spragins, Health and Government Markets Manager at 281-743-8520, Bubba.Spragins@af-group.com or Charles Angel, Account Executive at 501-690-2532, Charles.Angel@af-group.com or visit www.americanfidelity.com.
Home » Services » League Programs
League Program
Grants Service
The Grant Book Company -
A grant locator service is provided for municipalities in an effort to simplify the process of locating and obtaining grants. The League has partnered with The Grant Book Company to provide this service for its members through Grant Search Central, the on-line web site for The Grant Book Company.
Grant Search Central provides up-to-date information about the availability and requirements for literally hundreds of types of government and non-profit grants. Also available are grant-writing tools, access to message boards, e-mail alerts, and other types of valuable information for registered users.
To register your municipality for Grant Search Central e-mail contact information to ksmith@thegrantbook.com. For additional information on Grant Search Central, go to www.thegrantbook.com.
Legacy Consulting -
This grant service provides members with assessment and evaluation services, the development of a community blueprint and assistance in grant procurement methods. Specific training in garnering needed funds for individual projects, as well as various tools monitoring and evaluating the grant process are available as well. The services offered by Legacy Consulting will seamlessly integrate with other programs and resources currently provided to members of the Arkansas Municipal League.
To contact Legacy Consulting, e-mail Chad Gallagher at chad.gallagher@legacyincorporated.com
or access their Web site, www.legacyincorporated.com.
Grant Sources -
Home » Services » League Programs
League Program
Job Evaluation and Salary Administration Program (JESAP)
This service is provided to our members by DB Squared and the Johanson Group. The Job Evaluation and Salary Administration Program, or JESAP, is a proven compensation management system that can provide our members with greater efficiency in reducing the following problems:
Missing pay structure for creating pay rates and annual budgeting
Problems attracting and retaining productive employees
Inadequate, nonexistent or non-compliant job descriptions
Inefficient, manual processes that waste time and create excessive busywork
Lack of buy-in and creation of animosity relating to pay rate decisions
Employee favoritism related to pay that creates an employee morale problem.
The JESAP system typically provides a four-to-one or five-to-one savings of time and effort required to accurately define job functions, create accurate and current job descriptions, define pay rates, and monitor pay levels. For further information, visit www.johansongroup.net or call (479) 521-2697.
Home » Services » League Programs
League Program
Loss Control/Emergency Response Program
The Loss Control/Emergency Response Program provides members with individual loss control assistance and assistance in establishing an Emergency Preparedness Plan. The Loss Control portion of the program offers safety inspections and on-site consultation for Workers' Compensation, Vehicle program, and Property program participants.
In addition, the Loss Control program offers safety-training in various categories such as: Personal Protective Equipment, Trench Safety, Confined Space Safety, Bloodborne Pathogens, Safety Awareness, Back Safety, and Lockout/Tagout Programs. These programs are taught on location in your municipality. The Emergency Response portion of the program provides cities with information on how to be prepared for emergencies such as bomb threats, Cyber-Terrorism, tornadoes, and chemical and biological threats.
The Loss Control Video Library allows members of the Arkansas Municipal League to select training videos by submitting requests online utilizing the video e-cart. Training videos may be checked out on a first-come first-serve basis depending on availability. A maximum of three (3) videos per order, please. Videos should be returned as soon as practicable after training classes are completed. Also, please note that this is a service for members of the League only and unless specified, all videos are VHS tapes. The Arkansas Municipal League will not honor non-member requests.
Don't forget the value of training your workforce. If you or someone affiliated with your municipality would like to attend free training sessions on subjects such as Traffic Signal Maintenance; Trenching and Shoring; Heavy Equipment Operating; and Work Zone Traffic Safety, contact Laura Carter of the Technology Transfer Program at 501-569-2380 or via e-mail at laura.carter@ardot.gov. You may visit their website at: Center for Training Transportation Professionals (CTTP). This program is sponsored by the Federal Highway Administration and the Arkansas Department of Transportation.
Home » Services » League Programs
League Program
Ordinance and Code Assistance
A program of providing assistance to cities and towns in the development of municipal codes of ordinances is a significant aspect of the League's service program. This service involves a thorough study of all the ordinances of an individual city or town and the drafting of a code based on the ordinances. For more information, call 501-374-3484 ext. 228.
In addition, sample ordinances are available to League members on most subjects of municipal concern.
Home » Services » League Programs
League Program
State Agency Liaison
As the relationship between levels of government becomes more complex, more of the League's efforts have become devoted to intergovernmental relations. The role of the League as a representative for cities and towns in dealing with the various agencies of county, state and federal government has become increasingly significant in recent years and is expected to play a major part in the organization's future activities.
Home » Services » League Programs
League Program
Inquiry Service
An inquiry answering service is provided for local officials on any subject involving municipal government.
These questions are handled by the League staff who provide answers to municipal officials' questions by telephone, memorandum, referral, special survey or, when appropriate, on-site consultation.
Home » Services » League Programs
League Program
Online Sales of Government Equipment
This service is provided to our members by GovDeals. GovDeals is a "difference-making solution with a nationwide roster of clients." By utilitzing this service, members of the Arkansas Municipal League are charged only for items sold.
There is no set up or annual fee. Through GovDeals' online sales, only government entities may sell items through the online surplus sales site. For further information, visit
www.govdeals.com or call GovDeals at (866) 377-1494.
Home » Services » League Programs
League Program
IT Services
Through Sophicity, AML now offers a service, "IT in a Box," which provides cities with state-of-the-art information technology tools supported by experienced, highly skilled IT professionals. Congratulations to the city of Bethel Heights for being the first municipality in Arkansas to sign on with "IT in a Box!" We will keep you updated on their progress.
"IT in a Box" At-a-Glance...
From backing up and securing your data to modernizing your website, we know it's tough for cities to invest in the right technology and hire the best professional expertise to guide them along. But those investments need to happen. Otherwise, your data and city operations are at risk. To address these needs cost-effectively without taking any shortcuts, we helped create a packaged technology service that we call "IT in a Box."
From the minute you say "go," IT in a Box provides you with essential technology services and solutions that secure and modernize your city's IT for a fraction of the typical costs. So what's inside IT in a Box?
Cybersecurity and Computer Maintenance. We help guard your city against cyberattacks, viruses, ransomware, and data breaches by keeping your computers patched, protected, and healthy—24/7. Our management includes always-on monitoring and alerting for issues, enterprise-class antivirus protection, automated computer maintenance, and ongoing software patching to keep you secure.
24x7 helpdesk. Every day of the week, our U.S. based helpdesk team supports you in the office, working from home, or while you're on the road. No entry-level or junior tech support. You speak to experienced senior engineers with years of municipal experience who help you address any IT issue ASAP.
Data backup and disaster recovery. Server failure? Flooding? A tornado? No problem—your data is safe. We provide onsite data backup for quick recovery, and unlimited offsite data backup storage. Yes, that means no storage limit to what can be protected and recovered after a disaster.
Records / Document Management and Email. We provide the software and policies that protects your city documents and email from fire, flooding, tornadoes, and other disasters. We'll also apply Arkansas record retention schedules so that you can reliably archive, retain, access, and delete information -- and we even help you process Open Records Requests. Plus, we provide you Microsoft Office Professional Plus for your desktops that includes the latest versions of Outlook (including 50GB of mailbox storage for each user), Word, Excel, PowerPoint, Access, InfoPath, Publisher, and OneNote.
Video Archiving. Does your police department rely heavily on squad car and body camera video recordings? That makes storage costs a big worry as your video grows at a rapid pace. We eliminate the cost of buying additional expensive storage by keeping your most recent videos onsite for quick access. Plus, we archive all your videos offsite—with unlimited storage to meet state record retention policies—for long term access without increasing your costs.
Policy and Compliance. To protect against cyberattacks and assist with audits, we help you adopt policies and best practices that educate your staff and make sure your technology helps you comply with state law. In addition to staff training, we shore up any security holes by securing, documenting, regularly testing, and proactively managing all your technology including vendor, network, wireless, physical, user, and remote access along with all software and applications.
Website. We provide you a sleek, modern, custom designed website that looks good and delivers the information your citizens need. Have as many city pages as you want, such as pages for city hall, public safety, parks and recreation, news, and events. Our website also features the ability to offer online payments and a user-friendly backend system so that you can add and update website information yourself. If you want, submit your website updates to us and we will post them for you.
Vendor management and procurement. Do you get frustrated wasting time on software support calls where you're not sure if you're resolving the problem? Our experienced staff steps in to take care of this dirty work. From resolving issues to even purchasing new computers for you, we will work with technology vendors directly so that you don't lose hours and days on the phone.
Costs
We customize IT in a Box plans depending on the number of your employees and the size of your city's technology infrastructure. This customization makes "IT in a Box" affordable for your budget, from the smallest city to the largest city. Contact us so that we may assess your needs and begin the quote process.
Our Guarantee
Love I.T. If we don't meet your expectations, then cancel the service.
Flat monthly fee. No hourly charges. Predictable.
No upfront project fees. Onboarding, equipment, and setup included.
Flexible. Increase or decrease your number of users any time.
Proven. Tailored for cities.
Read about the Bethel Heights case study and the Forrest City case study, and how IT in a Box has benefitted their cities.
Learn more about this service by downloading the IT in a Box brochure.
Learn more about this service by visiting the Sophicty's website: www.sophicity.com/ITInABox.aspx.
Cities tell us that body camera and squad car video storage costs are a big concern for them—and storage needs for video data will only continue to grow at an increasingly rapid pace. IT in a Box saves cities money with our unlimited offsite video storage to meet state record retention policies.
Learn about IT In a Box's New Video Archiving.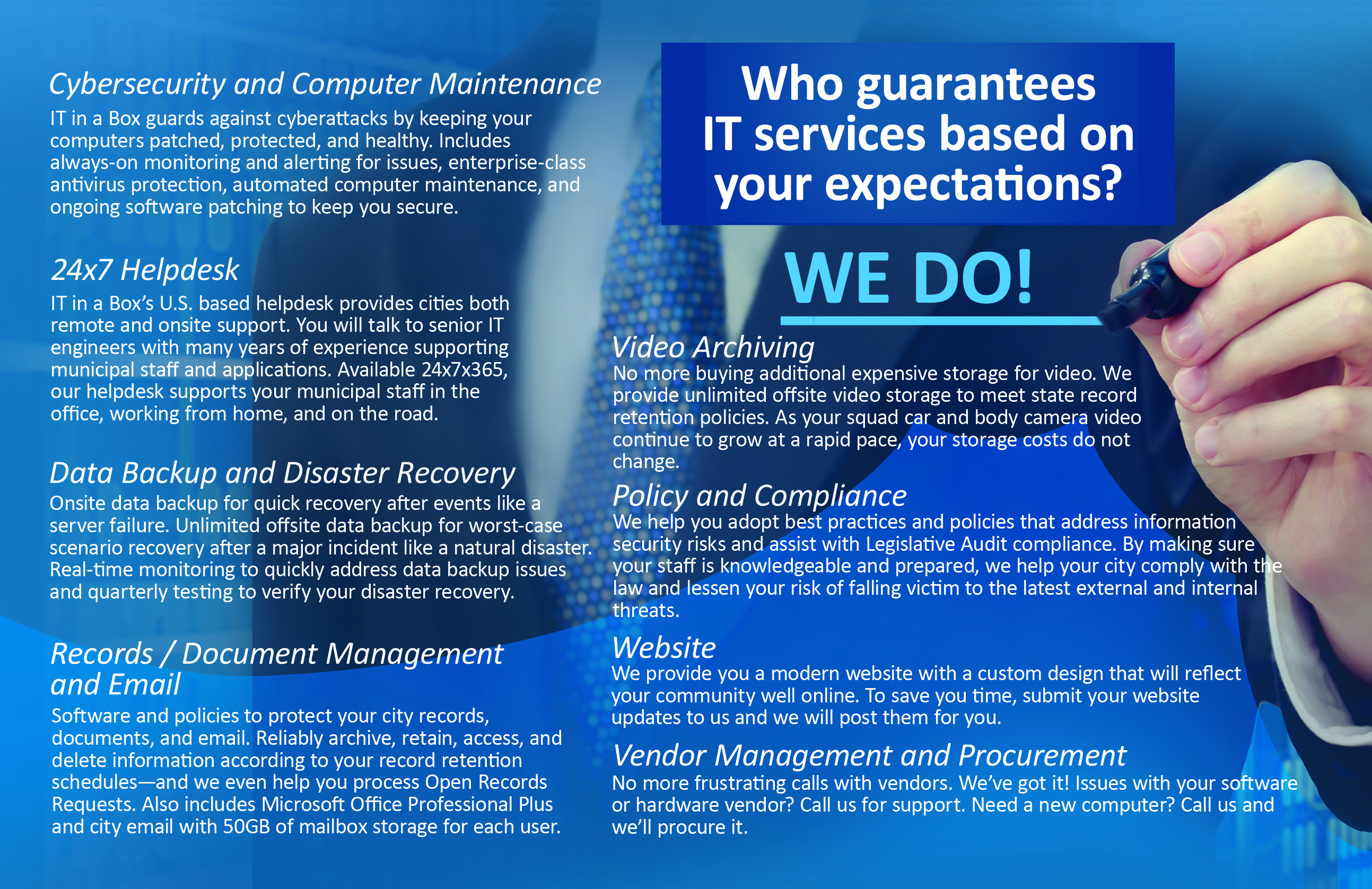 Home » Services » League Programs
League Program
Voluntary Certification Program for Municipal Officials
To increase municipal officials' basic knowledge of local governance, the League has developed an annual curriculum of core courses and continuing education courses. The core courses, offered at League headquarters, cover municipal basics, such as budget preparation and personnel matters.
Continuing education topics vary and are offered at the annual Convention and at the annual Winter Conference. City and town officials who complete 21 hours of classes in a calendar year (15 hours of core courses and six hours of continuing education) achieve the designation of Certified Municipal Official. To maintain certification, officials must complete six hours of continuing education in subsequent calendar years.
Registration Policy for AML Voluntary Certification Workshop Attendance
The Arkansas Municipal League's Voluntary Certification Program is offered to mayors, city administrators, city managers, city directors, council members, city clerks, city recorders and treasurers who are currently in office. Members attend workshops to receive certification credit hours to obtain their certified municipal official certificates.
Candidates running unopposed for one of the above positions may attend certification workshops if space permits. Candidates who do not fit this criteria may not attend certification workshops.
For those city officials who have completed the 21 hours of core curriculum, you must annually obtain 6 hours of continuing education to maintain your certification status. The required 6 hours must be gained by attending the hours of continuing education offered at the Winter Conference, an elective seminar or the Annual Convention.
For more information on the Certification Program, contact Whitnee Bullerwell at 501-374-3484 Ext. 206, or email wvb@arml.org.
To download PDFs of past Certification Seminars click here: Voluntary Certification Program Archive.
Access our Training Calendar for upcoming events.
To request League training, please download by right clicking and complete this form: Request For Training Form - PDF.
Home » Services » League Programs
League Program
Publications
A significant portion of the League's overall program is devoted to the development of publications in all areas of local government concern. Annual publications of the League include a Directory of Arkansas Municipal Officials, the Salary Survey, as well as updating of publications dealing with rapidly changing subjects.
The Handbook for Arkansas Municipal Officials is widely used by municipal officials and in demand by many other sources.
Updates to the Directory of Arkansas Municipal Officials are available monthly at this site.
The AML Publications list allows you to view and select publications by printing an order form online.
The League publishes a magazine called City & Town which is designed to provide a forum for municipal officials to exchange ideas and compare notes on accomplishments and problems in Arkansas cities and towns. This magazine has a distribution of approximately 7,000 copies. In addition to the elected officials, city administrators and managers, the magazine is sent to police chiefs, fire chiefs and other department heads. Also included on the mailing list are state officials, local newspapers, chambers of commerce and other offices and persons who are interested in municipal affairs. Please check the City & Town homepage to view the current issue and to check our archive. You can subscribe online in the www.arml.org/store.
Home » Services » League Programs
League Program
Annual Convention
Each year the League sponsors a Convention for elected and appointed municipal officials from across the state. The Convention is designed to provide these officials with the opportunity to discuss problems of common interest and to learn of new developments and techniques in local government and public administration.
An important part of the Convention is the Annual Business Meeting at which time the new officers are elected. The Municipal Policy Statement is also developed and adopted by local officials at the Annual Business Meeting. Each city or town is entitled to vote at the Business Meeting, making the Policy Statement broadly reflective of the needs and desires of communities throughout the state.
Here are some highlights from our 2016 Annual Convention: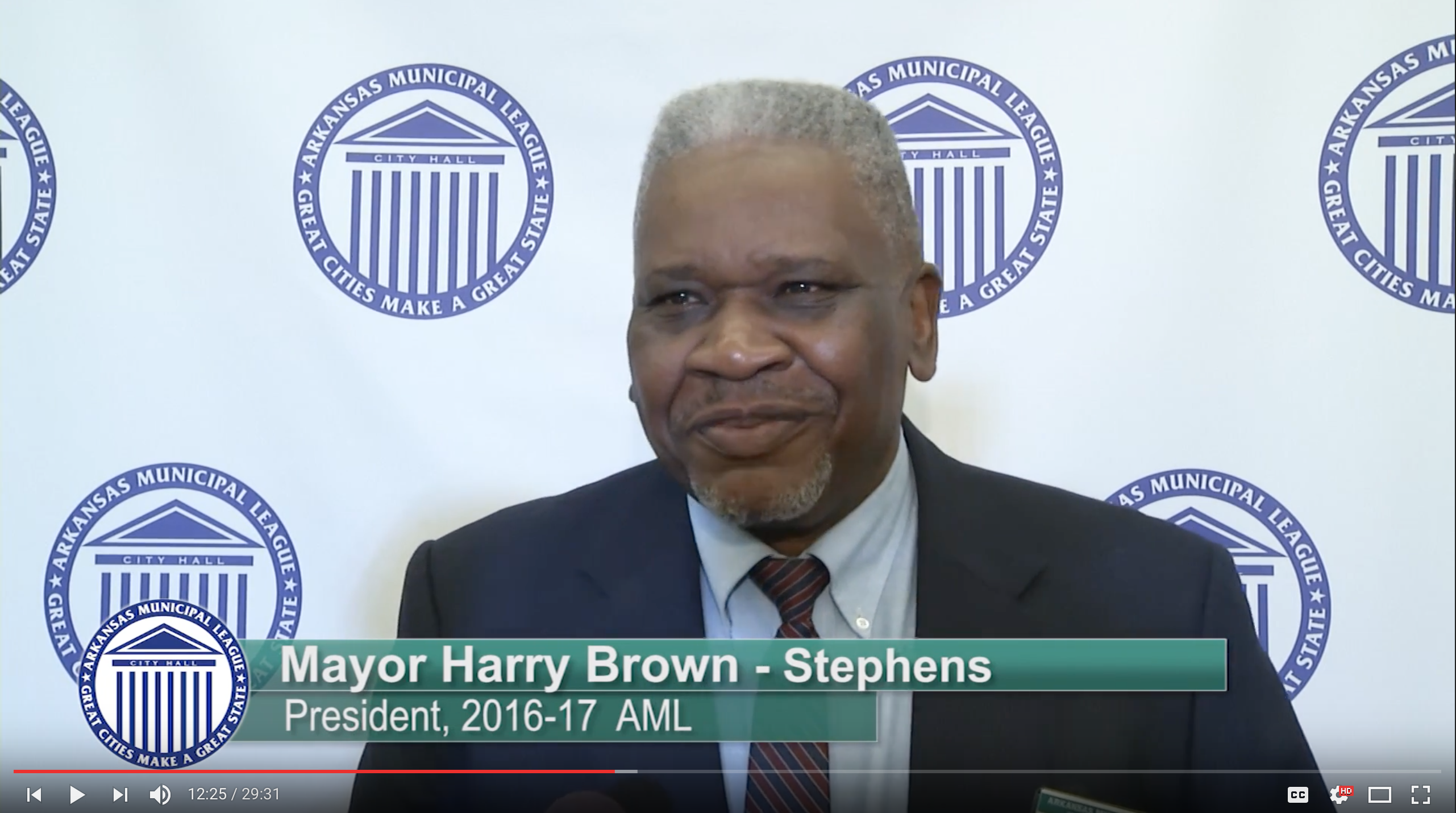 AML 82nd Convention Highlights Video link.​
Home » Services » League Programs
League Program
Legislative Liaison and Information
Charged with the responsibility to act as spokesman for Arkansas' cities and towns during the Legislative Sessions, the League, in accordance with the Legislative Policy set forth in the Policy Statement, assists in developing legislation of interest to all municipal governments and in following other legislation that affects cities and towns.
An important activity during the Legislative Session is providing information to municipal officials regarding pending legislation through special reports and publication of a Legislative Bulletin, designed to keep local officials informed on a regular basis of events taking place in the Legislature. Please visit our Legislative Action Center to access the League's Legislative Bulletin.